Hannah Whitlock: Amazon has grown its advertising business to around $32 billion annually. 
For sellers, that means there are a whole lot of opportunities – but also a lot of competition. In fact, over 643,000 new sellers will join the platform by the end of 2021 (Marketplace Pulse).
For customers, that means higher expectations about the speed and quality of their purchases.
PPC automation is a powerful tool to get visibility and sales that outrank competitors, essential factors in scaling your Amazon business.
Amazon has recognized this, with their recent beta launch of a rules-based bidding automation tool. It's not widely available yet, but Amazon's commitment to PPC automation is indicative of its value for sellers.
But to implement PPC automation effectively, it's important to start with some key considerations. Here's what we'll be covering:
Rules-Based vs Machine Learning: The pros and cons of types of automation
Bid Management: How to manage bids according to your goals
Human vs Machine Error: The importance of spending time and resources on PPC automation
Rules-Based vs Machine Learning Automation Tools
First up, you need to decide whether to automate your PPC campaign through a rules-based automation tool or machine learning automation tool. This really comes down to how much control you want over your campaigns, with rules-based automation providing more control. The level of control you need in turn depends on your team, targets, budget, and a myriad of other factors.
Here's a useful summary table: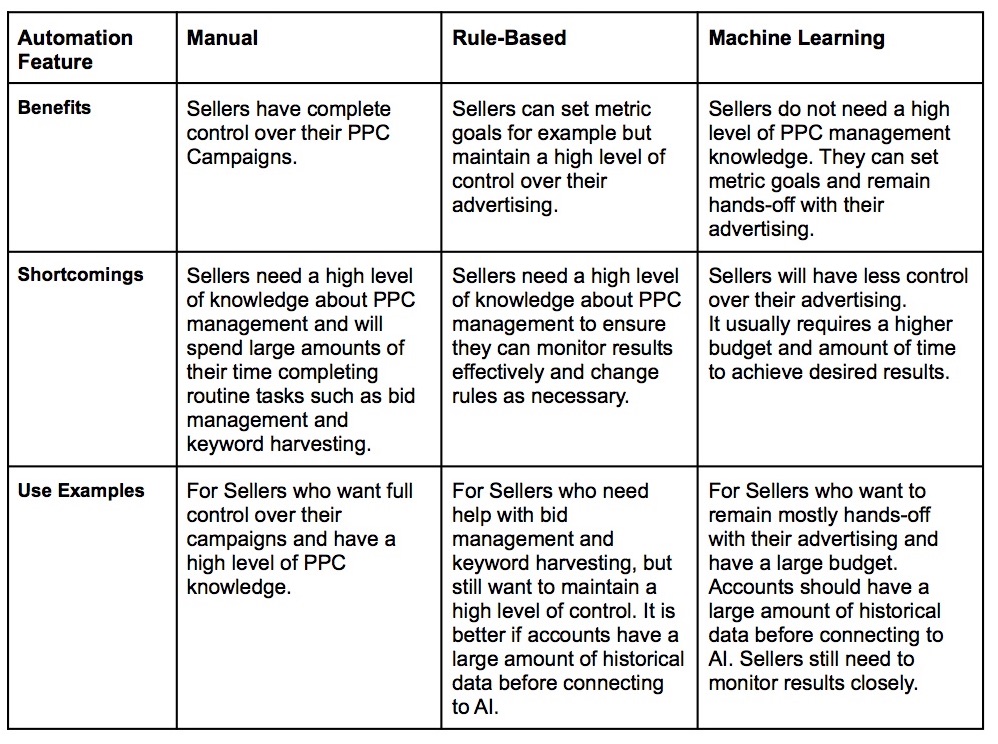 Rules-Based Automation
With rules-based automation, you set certain parameters, or "rules", for the algorithm to follow. For example, you might set this rule:
If ACoS is above 40% and a keyword has more than 10 clicks, then reduce bids by 10%
If campaigns are operating above this ACoS level of 40%, the algorithm works to bring the ACoS down.
The more ads you run, the better your campaigns will be optimized. That's because the algorithm optimizes campaigns with these set parameters, utilizing all historical advertising data.
Make sure you use a clear campaign structure so you can accurately monitor the changes being made by the algorithm – this human level of oversight is crucial for effective automation, to ensure that the algorithm doesn't over-optimize your account.
Machine Learning Automation Tools
With machine learning automation, you set a target metric, like RoAS or ACoS. The machine learning algorithm will analyze historical data and optimize campaigns for that metric. Unlike rules-based automation, machine learning automation doesn't require any input on bid amount.
This type of automation tool is designed to make PPC management easier – it's a lot easier than rules-based automation to set up a campaign.
This ease is also its downfall. You have almost no control over your campaigns beyond setting your initial target, so machine learning automation tools will take time to gather enough actionable data to perform at their optimal level. Therefore, it's not uncommon to experience poor quality results in the short term. To mitigate these risks, it's advisable to have someone with a strong understanding of Amazon PPC management, even with a machine learning tool.
KEY TAKEAWAY: START WITH A MACHINE LEARNING AUTOMATION TOOL FOR AN EASY-TO-RUN PPC CAMPAIGN. BUT TO OPTIMIZE MOST EFFECTIVELY, IT'S WORTH SPENDING THE EXTRA TIME TO MASTER RULES-BASED OPTIMIZATION.
How to Run Bid Management Based on Your Targets
The two key processes that automation takes over are bid management and keyword harvesting. Although you're saving a lot of time in the manual setup and tweaking of campaigns, automation campaigns – particularly those that are rules-based – still require a significant time investment to optimize for bids and keywords.
You will need to consider how you want to handle these processes and what your aims are. Different automation tools allow you to run bid management in different ways, with goals like:
Maximize clicks
Target impression share
Target CPA
Enhance CPA
Target RoAS
Maximize conversions
Are you trying to raise brand awareness? You might need to increase your bids for keywords and allow a higher spend and ACoS on these.
Alternatively, if your goal is to rank for certain keywords, expect a higher CPC – you won't want automation to lower this if it starts to creep above the desired ACoS.
If you're trying to optimize your bids to become more profitable, set a target RoAS or ROI. It's also a good idea to give your bids a decent amount of flexibility to adapt to changes in the marketplace.
KEY TAKEAWAY: AUTOMATION CAMPAIGNS' GOALS SHOULD BE SET UP BASED ON YOUR WIDER PPC GOALS, LIKE RANKING FOR KEYWORDS AND RAISING BRAND AWARENESS.
Human vs Machine Error
The number of hours spent creating and monitoring accounts can differ depending on your advertising goals and your product portfolio size.
But one thing is for sure: optimizing your pricing strategy, determining negative keywords, and monitoring results all take time.
By using an automation tool to run your bid optimization process, you give yourself and your employees more time and flexibility. However, if PPC automation tools are left to run unchecked, they can quickly cause problems.
Automation doesn't mean you can become 100% hands-off from your account. Although these tools are unlikely to make errors, they will invariably fail to take into account certain factors that a human would do when making optimizations.
For example, maybe a certain keyword has an increase in its ACoS due to increased competition. If your automation tool is set up to move the bid down when a keyword is performing above the desired ACoS, this could dramatically reduce sales and affect your organic ranking.
Therefore, it's important to make sure your AI is compatible with both your short and long-term goals for a seamless PPC strategy.
KEY TAKEAWAY: AUTOMATING YOUR PPC CAMPAIGNS WILL SAVE YOU SIGNIFICANT TIME, BUT YOU SHOULDN'T JUST SET UP YOUR CAMPAIGN AND FORGET ABOUT IT. AUTOMATED PPC CAMPAIGNS REQUIRE FREQUENT MANAGEMENT BY A PPC EXPERT.
To Automate, Or Not?
Automation tools are as good as the strategy that sits behind them. Choose a tool, select a campaign type, and set parameters based on your PPC and wider business goals.
There are plenty of popular and reputable PPC automation tools on the market – they all offer different levels of control and benefits. Exactly which one you use will depend on your strategy.
It's no surprise that Amazon has recently started testing its beta version of rules-based bidding. It's a real sign that Amazon acknowledges the benefits automation brings to sellers, and we're expecting a more developed suite of Amazon PPC automation tools to be added in the future.